Multiple Art Days
22, 23, 24 May 2015
12h00 to 18h00
La Maison Rouge
10 Boulevard de la Bastille, 75012 Paris
Curators
Sylvie Boulanger & Michael Woolworth
MAD#2 will take place on September 30, October 1st and 2nd, 2016
The new fair for limited art editions
A new, annual fair for limited art editions of all kinds, MAD will present, over a 3-day period, a wide spectrum of contemporary publishing practices, from zines to rare objects: prints, multiples, artists' books, videos, audio CDs, vinyls...
Held at the Maison Rouge / Foundation Antoine de Galbert on May 22, 23, and 24, 2015, MAD is a new fair for anyone who wants to collect recent art editions in their many different forms.
Taking over the entire space of the Maison Rouge, a Parisian institution dedicated to contemporary creation, MAD will bring together some 70 international artists and publishers, the most independent and versatile actors in today's art world.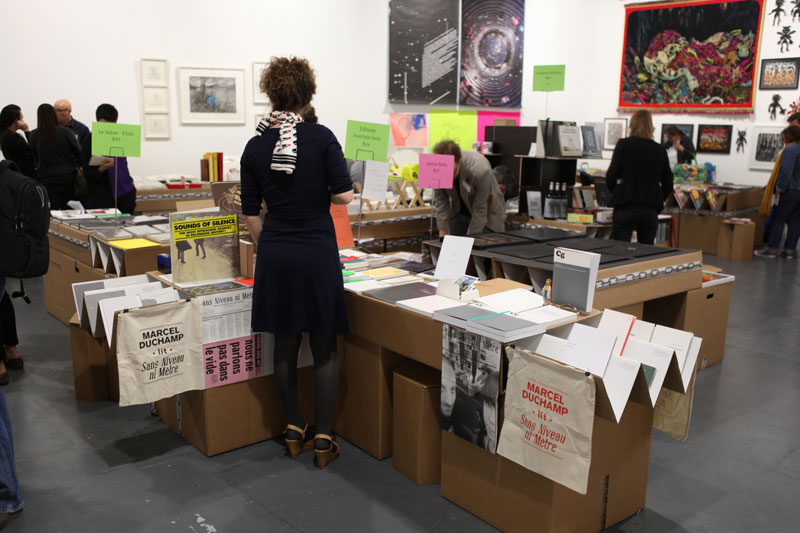 Much more than a fair, MAD will present 3 days of performances, concerts, signatures and discussions on editorial trends in contemporary art. 3 days with artists, writers, researchers, printers, art and book dealers, publishers and collectors from around the world.
We look forward to welcoming you!
Visitor info
Opening hours
Open to the public Friday, May 22 and Saturday, May 23 from 12 pm to 7 pm, and Sunday, May 24 from 12 pm to 6 pm
Admission fees
Full price: 5€
Free admission: Visitors 18 and under, students
Address
La maison rouge
10 Boulevard de la Bastille
75012 paris
Telephone: +33(0) 1 40 01 08 81
Fax: +33(0) 1 40 01 08 83
Access
Subway: Quai de la Rapée (ligne 5) ou Bastille (Lines 1, 5, 8)
RER train: Gare de Lyon (A, D)
Accessible to individuals with disabilities
View Larger Map
Events
On the occasion of MAD#1, the program MAD IN presents 3 days of discussions, performances, dialogues, concerts, signatures and debates, held in the maison rouge auditorium (Headdress Room).
MAD IN - maison rouge auditorium (Headdress Room)
Friday, May 22
2PM - ACTION by Stéphane Pencréac'h, « Along the Watchtower ». (Michael Woolworth Publications)
2:30PM - ACTION by Nicolas Giraud, « Jacques Chirac et la photographie (un passage de l'image du discours au discours de l'image) ».
3PM - TALK The Robbe-Grillet Hypothesis, session 2 : Julien Carreyn, Christophe Bier, Camille Vivier, « Érotisme expérimental ».
4PM - TALK with Jérôme Zonder and Cécile Pocheau-Lesteven, chief prints curator, National Library of France.
4:30PM - ACTION Julie PFortier, « Comme chez Séphora ». Perfume launch.
5PM - TALK with Stéphanie Solinas and Marie Minssieux, curator in charge of contemporary collections, rare book department, National Library of France.
5:30PM - ACTION with Sébastien Pluot and Yann Sérandour, in conjunction with « A Constructed World, » «A translation from one language to another».
Saturday, May 23
1PM - LISTEN by What You See Is What You Hear and composer Sébastien Roux, « Issues ». 1:45PM - ACTION by Valentina Traïanova and Antoine Dufeu, « Tokgora ».
2PM - TALK by Pork Salad Press with Jacob Fabricius, « OLD NEWS, toute l'histoire ».
2PM30 - TALK. The Kandinsky Library at the Pompidou Center, discussion with Sylvia Bozan and Aurélien Bernard (in charge of 'printed matter' department).
3PM - TALK matali crasset and Juli Susin (Royal Book Lodge) present their book « Voyage en Uchronie ». 3:30PM - SOUND with Zabo Chabiland, « Elbow in C ». (Hand art Publisher)
4PM - ACTION with A Constructed World, invited by Peeping Tom's Digest#4:Paris.
5PM - SOUND by GOL, featuring Samon Takahashi, Frédéric Rebotier, Ravi Shardja and Jean-Marcel Busson in « A Paradoxical Bazaar ».
Sunday, May 24
12:30PM - VIDEO. AH AH AH Editions present 3 videos: "RVB", Vladimir Maïakovski Remix, Yves Klein Remix, Joseph Beuys Remix.
2PM - ACTION by Charles Pennequin, « Atmosphère de transformation ». (Friville Editions)
2:30PM - TALK. Andy Hope 1930 in dialogue with Juli Susin (Royal Book Lodge) on their collaborative projects.
3PM - ACTION Performance by Sara Glaxia in relation to her new edition « Serpentine Illusions ». (Royal Book Lodge)
3:30PM - ACTION Véronique Bourgoin presents 2 videos, « Normadrine » and « Remake ». (Dirk K. Bakker Boeken)
4PM - TALK between Leo Findeisen and Agnes Blaha, « NO ISBN » and ACTION by Bernhard Cella. (Salon für Kunstbuch)
4:30PM - TALK. Angélique Lecaille and Mathieu Renard, hosted by Julie Portier. (Lendroit Editions)
5PM - TALK Léo Favier, « Comment, tu ne connais pas Grapus? ». (Spector Books)
5:30PM - SOUND. SET by Optical Sound - Records And Fine Art
CURATED BOOTHS
'Do Your Own Literature,' from the exhibition Packaging by Jean-Max Colard and Antoine Dufeu (assisted by Marine Allibert). From press kits and captions to conceptual statements, this multiples collection offers you the possibility to create a library of "exhibition literature" (poetic, polemical or narrative) at varying levels (caption, statement, poem-object, exhibition brochure), all integrated into the exhibition's conception or design. Contents of packaging : 1 press kit, 1 invitation card, 1 exhibition booklet, 1 text, 1 exhibition summary. With Saâdane Afif, Bruno Botella, Jason Dodge, Ida Ekblad, LJC, Benoît Maire, Emilie Pitoiset, Jean-Benoît Puech, Sinziana Ravini, Clément Rodzielski, aalliicceelleessccaannnnee&ssoonniiaaddeerrzzyyppoollsskkii.

The COOP CLUB, a cooperative improvised by Mathieu Mercier specifically for MAD, brings together multiples and self-published art projects. All profits go directly and exclusively to the artists. With Saâdane Afif, Jofroi Amaral, Berdaguer & Péjus, Jean-Marie Blanchet, François Bouillon, Julien Carreyn, Philippe Cazal, Clédat & Petitpierre, Claude Closky, Hervé Coqueret, John Cornu, Francois-Xavier Courrèges, Alix Delmas, Marie Denis, Osman Dinç, Christophe Dubois, Sammy Engramer, Lili Fantozzi, Marie Glaize, Clarence Guena, Adrien Guillet, Lamarche & Ovize, Hervé Landry, Cécile Le Talec, Rainier Lericolais, Olivier Leroi, Gauthier Leroy, Nadia Lichtig, Dimitri Mallet, Cyrille Martin, Martinez Barat Lafore, Damien Mazieres, Aurélien Mole, Nicolas Muller, Guillaume Paris, François-Thibaut Pencenat, Christoph Rothmeier, Bruno Rousseaud, Benjamin L. Aman & Marion Auburtin, Cidalia Soares, Kristina Solomoukha & Paolo Codeluppi, Jeanne Susplugas, Laure Tixier, Maxime Touratier, Aldéric Trével, Noémie Vulpian, Elsa Werth, Francisca Würz and Mathieu Mercier.

FORMES GÉNÉRALES (Generic shapes) by Pierre Ponant and Christophe Jacquet, explores contemporary graphic forms, revealing unconventional approaches to drawing, graphic design, typography, photography and performance. It proposes a selection of artists whose work dovetails with the art world, both in terms of their graphic identity and the information they address. FORMES GÉNÉRALES presents editorial objects, multiples and uniques whose multifaceted, ambiguous identities play a role in research and experimentation in art and technology. With 4 Taxis, Jocelyn Cottencin, Florent Dégé, Pierre Di Sciullo, Flag, Hendrik Hegray, Christophe Jacquet, Officeabc, Pierre Ponant, Pierre Lin Renié.

Pistes de lecture(s) (Playback tracks), by What You See Is What You Hear, is an editorial and curatorial platform conceived as a playlist from VOLUME, a contemporary art magazine devoted to sound art, and in particular to partition/translation/interpretation on vinyl records by composer Sébastien Roux, whose six songs translate, respectively, six issues of the magazine VOLUME.
Special MAD FOCUS
The matali crasset boat. The Royal Book Lodge Floating library, a matali crasset design for Juli Susin's publications, was built to house works by such artists and friends as Kai Althoff, André Butzer, Andy Hope 1930, Véronique Bourgoin, Oskar von Muller Strasse 16, Dorota Jurczak, Abel Auer, Armin Krämer, Daniel Johnston, Gianfranco Sanguinetti, Man Ray, Jason Rhoades, Jonathan Meese, Angel Yegros, Ralph Rumney. For MAD#1, Jonathan Meese has specially designed a special flag entitled « Von Feinsten's jacket » which will fly high on the The Royal Book Lodge Floating library.

Wallpaper by artists. A range of original, limited-edition wallpapers by contemporary creators, recently published by Wallpapers by artistsⓇ, will accompany MAD visitors as they enter the space: Francis Baudevin, Giasco Bertoli, Philippe Cazal, Marc Camille Chaimowicz, Philippe Decrauzat, Doria Garcia, Aloïs Godinat, Pascal Pinaud and Jérôme Poret, Ida Tursic & Wilfried Mille, Loïc Raguénès.
Partners
MAD #1 is organized in partnership with the CNEAI = (Centre National Édition Art Image) and la maison rouge / Fondation Antoine de Galbert, and benefits from the suppport of Smurfit Kappa and the Conseil Régional d'Île-de-France
CNEAI = centre national édition art image
www.cneai.com
Ile des impressionnistes,
2 rue du bac
78400 Chatou
+33 (0)1 39 52 45 35
cneai@cneai.com
A national center for contemporary art dedicated to published works, the Cneai – Centre national édition art image – has, since 1997, developed a model for collaborative programming: organizing research groups and editorial programs (a catalogue of 600 multiples and 150 publications), exhibitions and events, including research (laboratories and seminars) and mediation. The artists and contributors are offered residencies at the "Maison flottante," conceived by the Bouroullec brothers in 2007. The FMRA collection, which is open to the public, brings together 12,000 books and artistic ephemera. The Cneai dynamically combines the artistic fields that define the various frontiers of visual experience, merging sound art, performance, choreography, graphic design, and literature and scientific research.
La Maison Rouge - Fondation Antoine de Gabert
www.maisonrouge.org
10 boulevard de la bastille - 75012 Paris
+33 (0)1 40 01 08 81
info@lamaisonrouge.org
Founded by Antoine de Galbert, a private art collector and prominent figure on the French contemporary art scene, the maison rouge was inaugurated in Paris in June 2004. Its goal is to promote various facets of contemporary creation through a program of temporary exhibitions. More than 1,300 square meters of exhibition space are given over to independent curators, invited by the maison rouge to explore the diverse range of contemporary artistic experimentation, often by way of important private collections from around the world. By inciting and initiating various artistic experiences, the foundation aims to encourage the multiplicity of practices and approaches to contemporary creation.
Smurfit Kappa
www.smurfitkappa.com & www.openthefuture.fr
One of the leading manufacturers of paperboard and paper-based packaging solutions in France and throughout Europe, Smurfit Kappa creates solutions adapted to its clients' everyday needs and helps them promote their products. For many years, Smurfit Kappa has been developing a business strategy called "Open the future," which emphasizes the group's goal to increase its customers' and partners' growth through an innovative, forward-thinking approach.
Credits
Curators
Sylvie Boulanger, director of the CNEAI et Michael Woolworth, director of Atelier Woolworth
Artistic committee
Paula Aisemberg, Daniel Bosser, Jean Max Colard, Michèle Didier, Laurie Hurwitz and Mathieu Mercier.
Coordination
Barbara Quintin
Furniture design Do or DIY
Stéphane Magnin
Graphic design
Press contact
Claudine Colin communication – 28 rue de Sévigné – 75004 Paris, Pénélope Ponchelet and Marine le Bris
MAD Team
Anaïs Deléage (Cneai =) and Claire Schillinger (Maison Rouge - Fondation Antoine de Galbert) : press and communication in conjunction with Claudine Colin Communication
Laurie Hurwitz : web coordination
Laurent Guy, Pierre Kurz (Maison Rouge - Fondation Antoine de Galbert), Benjamin Fély (Cneai =) : management and technical direction
Graziella Niang, Nathalie Lacroix, Anaïs Deléage, assisted by Julie Clément :  guests & VIP breakfasts
team Woolworth, Marc Moyano, Olympe Racana and Julien Torhy
Volunteers Cécile Amigas, Céline Arnal, Isabelle de Chamborant, Léo Chesneau, Côme Clérino, Bérénice Lefebvre, Betty Rose Manzetti, Paul Moragues, Nicolas Payan, Raphaëlle Peria, Sini Rinne-Kanto, Karim Saidi, Constance Thieux, Lucas Jacques Witz, Samuel Zhou : setup, breakdown, announcements
Virginie Jacquet : MAD IN
For any questions, please contact Barbara Quintin
contact@multipleartdays.com